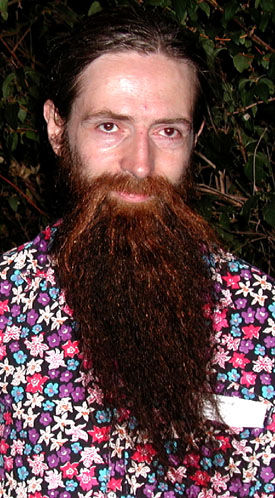 Aubrey de Grey has become the leading prophet of the radical life extension movement. To adherents, he has become a messiah figure as well; the long Jesus-like beard serves him well.
No other speaker trumps his passion for the subject of aging. Instead of searching for pragmatic methods to slow aging using current technology, de Grey has his sights set on the future.
His primary message is that even with all the major advances in regenerative medicine and biotech, we are still far from the goal of repairing damage accumulated from aging. Funding isn't adequate enough to benefit people living today; it needs to be ramped up dramatically. Business will only act if there is sufficient demand along with promise of profitability. Aubrey's goal is to convince scientists, decision makers, and the public at large that the answer to aging will materialize if we want it bad enough. The time has come to vote with our voices and our wallets.
Without further ado, here are some key quotes from Aubrey de Grey.
"A lot of people, especially journalists, like to characterize my work and the SENS Foundation's work as being about immortality or living forever. (…) But actually what we're about is stopping people from getting sick, which is a very down to earth and not terribly controversial topic."
From Singularity University talk
Q. "First, a personal question; you are now approaching fifty; I am even older. Is it too late for you, and more importantly, is it too late for me to live to a thousand?"
A. "I have no idea, though I would say I have maybe a 50% chance. (You don't say how much older than me you are, so I can't comment.) All I know is that the sooner we develop these therapies, the better my chances. But my motivation is actually very largely independent of that. I focus on the fact that every day that I bring the defeat of aging forward, I'll have saved 100,000 lives (that's the number of people who die every day at present from causes that young adults rarely die of). That's pretty good motivation, whether or not I'm one of the people in question."
From digitaljournal.com interview
"… I encounter knee-jerk resistance about the desirability of the ability of postponing aging; and this arises primarily from the way it is portrayed in the media. In the media there is a tendency to try to make everyone feel comfortable with what they are hearing and what they're reading. The whole prospect of postponing aging doesn't make people feel comfortable because they're worried that it won't be in time for them."
From bigthink.com interview
Q. "Of the 'seven deadly things' that cause ageing – cell loss, mutant mitochondria, mutations, death-resistant cells, tissue stiffening, and extracellular and intracellular aggregates – which will be the most difficult to address?"
A. "I'm in no doubt that the hardest one to address is mutations in our chromosomes. The problem with those is that they lead to cancer, which has natural selection at its disposal – so the cleverer we get, the cleverer it gets. That's why the SENS approach to combating such mutations is so aggressive, and indeed so ambitious."
From nextbigfuture.com interview
"People have fear of the unknown. They appreciate that a post-aging world will be unbelievably different from the world that we know today."
From bigthink.com interview
"The human body is at root is a machine. It's a really, really complicated machine. There's no dispute about this… but as we all know the human body is a machine. (Swigs beer) Machines accumulate wear and tear. Machines have what you might think of as a warranty period. They're built to last a certain amount of time and they probably won't last much longer than that, other things being equal. (Shows slide of VW jeep) Here is a machine that has lasted unusually long, for a car. This is more than fifty years old. And the reason it has lasted that way is because it was built unusually well. (…) That's one way for a car to last longer than the ten or fifteen years your average car is likely to last. (…) There is another way to achieve that level of longevity for a car. (…) There are just as many fifty year old VW bugs driving around the streets of the U.S.A as there are fifty year old land rabbits. (Shows slide of VW bug) And the reason is because they've got style. Their owners are sufficiently in love with them that they've done enough maintenance on them; comprehensive enough maintenance to keep them going."
From Singularity University talk
"The phrase 'natural causes' is a very strange one, really. Ultimately what it means is: they die of aging in a way that has not been given an additional name. So when someone dies of cardiovascular disease, for example, from a heart attack or a stroke, they die of aging just the same as someone who dies of natural causes. It's just that the last stage of what they died of is given a particular name. It's just a matter of terminology."
From bigthink.com interview
"Anything that mainly kills the elderly, anything that young adults essentially never die of is death from aging. (…) Which means if we look at the international classification of diseases, we can determine that something in the region of two-thirds of all deaths worldwide are from aging. That's 30 World Trade Centers every day."
From TEDMED talk
"I'm not a worrier, actually. I figure I've got an extraordinarily privileged life. I've been able to go into a position of making a very substantial difference to the world's biggest problem. As a scientist… someone who likes working on hard problems, you can't get much better than that."
From bigthink.com interview