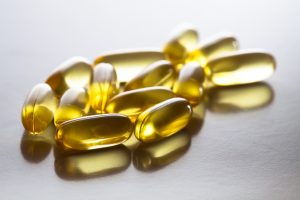 Research backing the health benefits of omega 3 fatty acids keeps piling up as years pass. The evidence is so overwhelming that the most conservative health professionals have jumped on the bandwagon. Nutritionist Dr. Dean Ornish, known for advocating whole foods, recommended taking a fish oil supplement in his TED talk entitled "Dean Ornish on Healing".
"If you don't remember anything else from this talk, 3 grams a day of fish oil can reduce the risk of a heart attack and sudden death by 50 to 80 percent" said Ornish.
As a practicing doctor he developed a diet plus simple interventions that actually reversed heart disease without surgery. In the past, this was thought impossible. Clearly bad lifestyle choices can harm our health, but now we know that good ones can potentially reverse the damage.
Of course the health benefits don't stop at heart health. The brain for example is 60 percent fat, so fatty acids are important building blocks for our body. The numerous benefits could fill another article. Let's get to the meat of it and take a look at popular fish oils offered by Carlson.
Carlson Very Finest Fish Oil
Liquid fish oil has a bad reputation for two things: producing "fish burps" and tasting disgusting (especially to those that hate fish). Carlson has managed to alleviate these concerns by adding pleasant lemon flavoring. Personally I find it tastes terrific and this is coming from a person that isn't big on seafood. If you absolutely hate the taste of fish, go with Carlson soft gels to be safe.
Tests conclude that this product is free of mercury. This is great news because as advantageous as it is to get fatty acids from a salmon fillet, mercury levels are sometimes nearing dangerous levels depending on where it is caught and if it is wild or farmed.
One serving is a full teaspoon. It contains 1600 mg of omega 3 (EPA – 800 mg, DHA – 500mg, Other Omega 3s – 300mg). The 16.9 fl oz bottle contains 100 servings.
Carlson Super Omega-3 Fish Oil
Some fish oil capsules are just as notorious for producing "fish burps" as fatty acids in liquid form. This is caused when the oil becomes slightly rancid inside the body. Carlson adds a small amount of vitamin E (10 UI) to keep the product fresh thus avoiding this issue. In my own experience, I haven't noticed a problem.
I like capsules for travel. After popping a dozen or so in a small container I'll a way to feel a better about myself if I drink too many Piña coladas on vacation. Yes, I know it is slightly delusional.
Like all Carlson fish oil products, Super Omega-3 Fish Oil is free of mercury.
You'll have to swallow 2-3 capsules to equal the punch offered by Carlson Very Finest Fish Oil. Each soft gel contains 600mg of omega 3 (EPA – 300 mg, DHA – 200mg, Other Omega 3s – 100mg).
Conclusion
There are some very pricy omega 3 supplements out there by Nordic Naturals and New Chapter. Both have a lot of hype behind them however I can't justify paying that much for a fish oil supplement. Carlson's stuff has a good balance of value and quality, making it the brand I stick to.
—
Photo: Jo Christian Oterhals